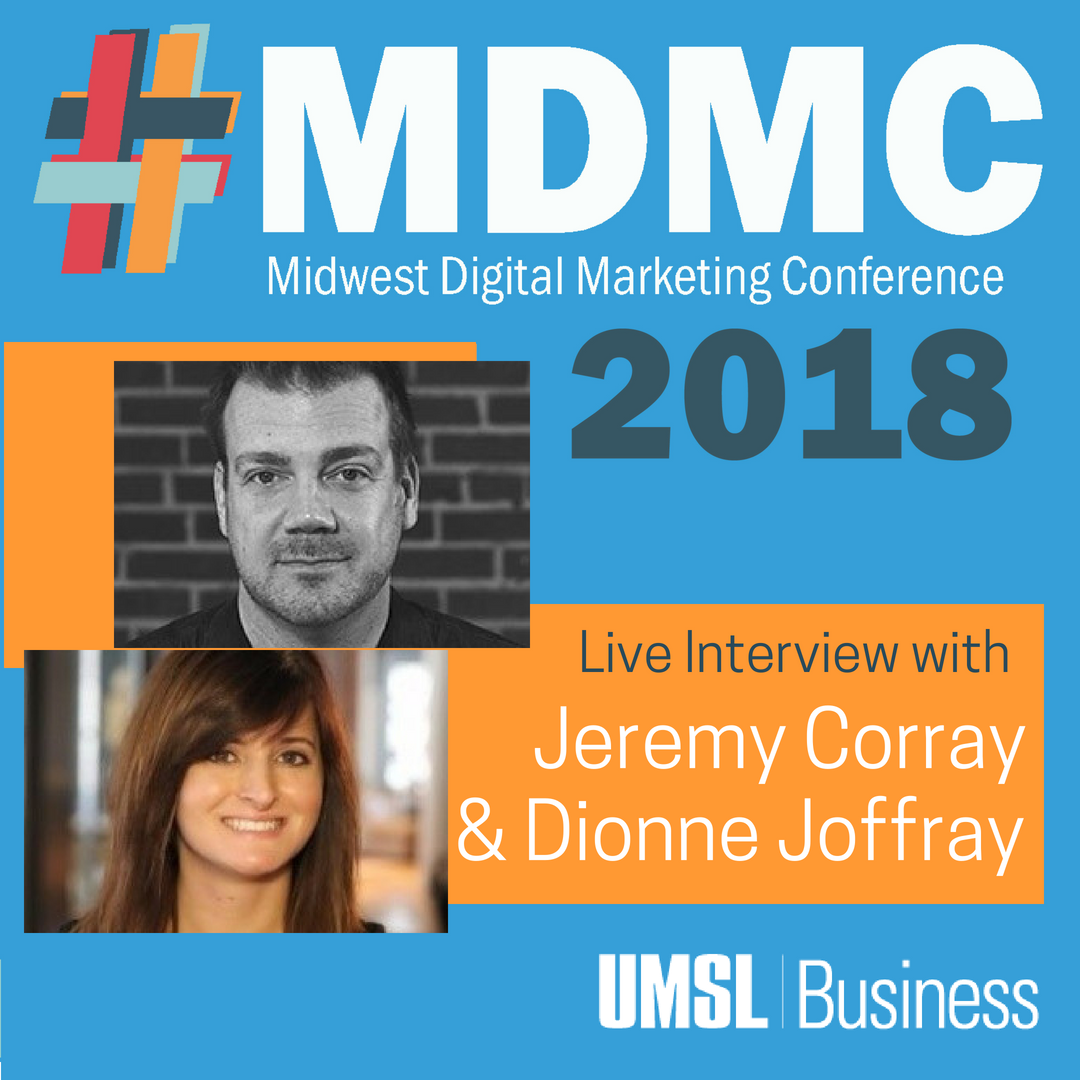 In this episode, we speak with Jeremy Corray and Dionne Joffray of Coolfire Studios live from the Midwest Digital Marketing Conference (MDMC18). Jeremy and Dionne share how to better craft social videos. They discuss how to do so through tips, tricks, and common mistakes that are easy to fix.
Host: Taylor Caputo
Produced: Brian Borgstede, James Brandt, Taylor Caputo, Khadijah Johnson, Blake Rudloff and Gus Wehmeier
Guests: Jeremy Corray and Dionne Joffray
About MDMC: the MDMC is the largest Digital Marketing Conference in the Midwest, and it boasts speakers annually from companies such as BuzzFeed, Facebook, Twitter, LinkedIn, and Google, including some local talent. The conference was held in St. Louis Union Station on March 27-28 2018, featuring over 120 speakers, and offering about 80 sessions for more than 1,700 attendees.
About the Speakers: Jeremy Corray has served as VP of Digital Entertainment for Coolfire Studios for the past 4 years and lead the team in creative social video strategies for brands like Build-A-Bear, Microsoft, Emerson, Cepia and Barnes-Jewish Hospital. Working with the team he merges his passion for video production together with business objectives for clients to create short form social campaigns that drive traffic and fire up a community. Utilizing experience and humor, Jeremy shares his learnings from the entertainment and marketing industry in a straight-forward and energetic style that made his sessions less like panels and more like stand-up comedy.
Dionne Joffray is Director of Digital Engagement at Coolfire Studios. As a digital strategist, her mission is to oversee audience-first content, aligning strategy and creative at the start to develop marketing programs with intention.